What is ECWCS? What layers does this system have?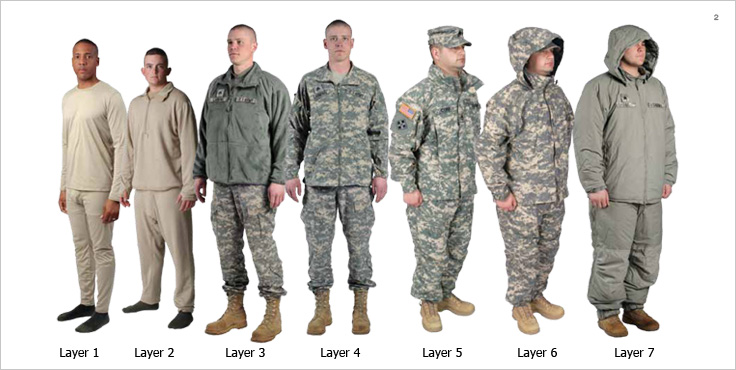 The Extended Cold Weather Clothing System, or ECWCS, is a special clothing system designed by the U.S. Army Natick Soldier Research, Development and Engineering Center. This system was first created in the 1980s with the sole purpose of keeping soldiers warm when they have to face cold environmental conditions. The system uses a combination of various clothing and accessories made out of protective fabrics in order to accomplish this task.
There have been three generations of this system that evolved over the years. The original first generation system used over 20 pieces of individual clothing. The main articles of clothing were the cotton & nylon trousers and white camouflage parka. The other clothing included undershirts, underwear, polyester shirts, bibs, nylon boots, nylon socks, caps and barrier boots for extreme cold weather. The shirts were made out of polypropylene, which is a thermoplastic that is made to create warmth when cold air hits it.
The second generation system added two new layers made with Polartec fabrics, which are high quality textiles designed to keep people warm during all kinds of outdoor activities. Polartec, formerly Malden Mills, creates these fabrics for both the military and individuals. But the two layers the military uses in this system are the Polartec 200 Fleece Overalls and the Polartec 300 Shirt. The combination of these layers mixed with the previous layers from the first generation system creates cold weather protection for temperatures in the -40°F and 40°F range. The parka even had slight improvements made with the added vents to make it more breathable.
The third generation system is a complete redesign of the older systems. This one has seven newer layers that use three of the Polartec fabrics; Two Polartec Power Dry and the Polartec Thermal Pro High Loft. This third generation system was first used in the actual battle field in August of 2007 by the 73rd Cavalry Regiment who fought in Afghanistan. You may think that Afghanistan is hot all the time because it is a desert environment. The truth is that Afghanistan gets very cold, especially at nighttime. In fact, during the winter season it can get under 30°F. So it is truly beneficial for the U.S. military to have special thermal insulated clothing to keep them as comfortable as possible when fighting the enemy under these conditions.
The ECWCS is always being improved by the U.S. Army and their affiliations with various fabric engineers and manufacturers, like Polartec. The next 30 years may prove to be even more revolutionary for the system than ever before.
It is easy to find and buy ECWCS levels online. There are army issue and commercial issues.
Level 1, Highly breathable, moisture wicking material, Commercial Issue by Rothco
Level 1 – Army Issue
Level 2, light insulation, Commercial Issue by Helikon-Tex
Level 3, insulation layer – Commercial Issue by Rothco
Level 4, Wind Jacket – Army Issue
Level 4, Wind Jacket – Beyond Clothing
Level 5, The key element of the ECWCS clothing system – – Special Forces Issue
Level 5, The key element of the ECWCS clothing system – Commercial Issue by Helikon
Level 6 -Wet weather, hardshell Army Issue
Level 7, Extreme cold weather, Primaloft, Army Issue
Level 7, Extreme cold weather, Primaloft, Beyond Clothing