What is PCU (Protective Combat Uniform)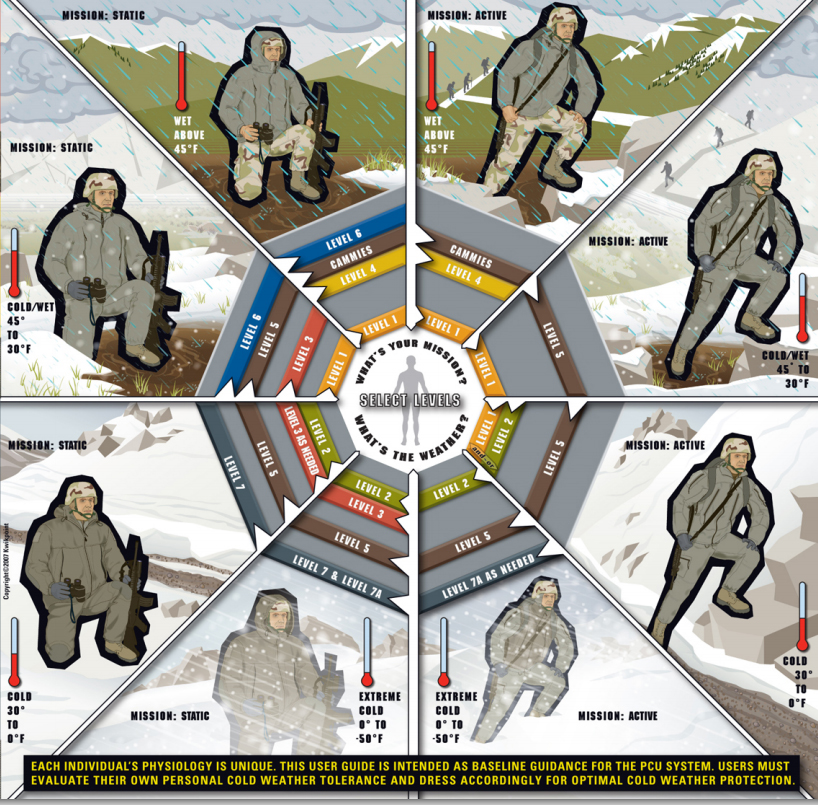 PDF: Protective Combat Uniform (PCU) Visual Guide Download
PCU stands for Protective Combat Uniform. This type of uniform is comprised of seven levels of clothing that are worn in layers in order to accommodate the conditions of a particular mission or environment. This could be an environment with varying weather conditions that bring about heat, cold, water, rain, wind or any other challenging atmospheric discharges that impact your ability to survive the area. The PCU will keep the person who wears it comfortable enough to endure these conditions without having to suffer through them or experience health complications from them.
You don't necessarily have to wear all seven layers together. The layers of the PCU will typically be worn differently each time. It all depends on the conditions you anticipate yourself going into. Just choose the layers that will help protect you for whatever conditions you are about to face. You will not be removing or adding layers while you are in the environment, so you have to prepare the layers and wear them correctly in order to maximize your comfort level. The first level that gets worn next to the skin will usually be a silky fabric that absorbs moisture from your bodily sweat and then dries out fast. This fabric goes by the name "Polartec Power Dry." It helps make sure your clothes aren't soaked from constantly sweating all the time. This level will have boxer shorts and a crew neck T-shirt. The next layer will be made of a similar fabric, but will consist of pants and a long sleeve top that has an invisible zipper. This will assist in absorbing moisture from more areas of your body that the first layer doesn't reach.
The third layer is a light jacket made out of a fabric called "Polartec Thermal Pro High Loft." This is a water repellent fabric that will also help insulate the person and keep them warm in colder temperatures. The fourth layer is a microfiber material that also repels water, handles cold temperatures and works as a softer shell for the fifth layer. The fifth layer is the most important layer of the entire uniform. It consists of pants and a jacket that is made of soft shell fabric with fibers made of silicone, which makes it windproof and very stretchable. You can use this solely with the first and second layer to stay warm in cold weather conditions.
The sixth layer is a hard shell nylon jacket that is oversized in order to cover up your gear underneath. It also provides maximum ventilation through the armpit zippers and contains lots of pocket openings to store items. The final layer is used under extreme conditions only. It is a combination of a lightweight vest, jacket and pants that keeps you warm when it is wet. The encapsulated silicone fibers of the material removes water and will keep you warm with its Primaloft insulation material.