Survival UST 30 Day Lantern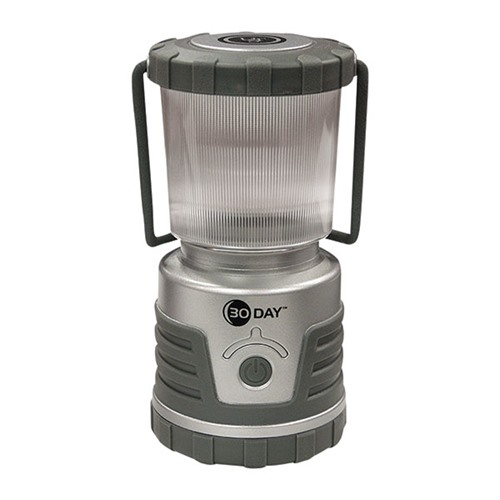 The UST 30-Day Lantern does what it advertises, and anyone would be hard put to find a better battery operated light. The green LED indicator flashes every five seconds so when you do find yourself in the dark you can at least find your lantern. The low mode while not adequate for tasks that require a strong light it does provide enough ambient light to even read by so the room is not in total darkness and you will be surprised at the amount of light you do get on low.
The low setting means the batteries will last for 30 days making this lantern ideal for marking trails or doorways in the home once the power goes out. Just turn it on and let it go and expect up to 30 days of use on the low mode.
The UST 30-Day lantern can be used in virtually any situation inside or out. Make sure you have one in your vehicle so you can alert other motorist you are along the side of the road. Use it for light while working on your vehicle as well. On high, the light is more than adequate for any task that requires a strong light and it can be hung overhead upside down to direct light downward or stand on its own so you have both hands free. The globe is removable so you do have versatility to adapt to any situation.
You can read using the light on the low setting, which makes it ideal for reading a map or even directions on camping or hunting trips. It is comforting to know that on low you have 30 days of use, because if you do become lost or stranded a good signal light may make the difference between surviving and not. The SOS flashing mode is ideal for boaters, hunters or campers that find themselves lost and need to signal rescue personnel or in need of assistance while boating. Hang the lantern upside down inside of a tent and leave it on so you or others can always find the tent in the dark.
The UST 30-Day Lantern is ideal for home emergency kits, car emergency kits and for camping hiking and hunting.
More information: Survival UST 30 Day Lantern