First Aid Kits for Survival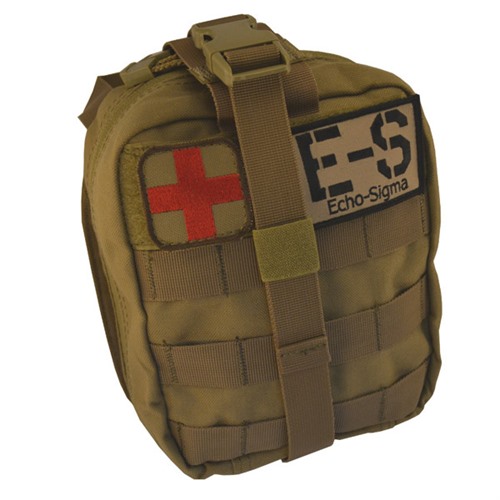 First Aid Kits for Survival
First aid kit is a must for any Bug Out Bag, car or even your everyday bag.
EchoSigma Trauma Kit
Compact EMT pouch contains the necessary tools to stabilize life-threatening, traumatic injuries. Supplements a conventional first aid kit and prepares you to deal with a scarcity of medical help during a widespread emergency. With a quick grab, the pack opens to provide immediate access to its life-saving supplies, including a combat tourniquet, 35g of Celox® hemostatic agent, NAR 6″ emergency trauma dressing, compressed gauze, trauma shears, 2 rolls of adhesive tape and 2 pairs of Black Talon nitrile gloves. Also contains an Adventure Medical Suture/Syringe Kit that consists of an additional pair of gloves, an 18-ga angiocatheter, 18-ga x 1½" needle, 21-ga x 1½" needle, 25-ga x 5⁄8″ needle, nylon suture 5-0, 1cc syringe with needle, Luer Lok 3ml syringe, three anethestic/antiseptic wipes, and four alcohol swabs. Ships directly from manufacturer. Please allow 7 additional business days for shipping.
Basic First Aid Kit
85 PIECE FIRST AID KIT INCLUDES: First aid instructions, scissors, tweezers, 2 vinyl gloves (1 pair), 1 whistle, 3 sting relief pads,6 antispetic towelettes,14 alcohol prep pads, 1 triangular bandage, 1 5″ x 9″ combine dressing, 20 3/8″ x 1 1/2″ bandages, 10 standard adhesive bandages, 10 butterfly bandages, 1 knuckle bandage, 2 knee/elbow bandage, 1 4″ x 4″ sterile gauze pad, 2 3″ x 3″ sterile gauze pads, 4 2″ x 2″ sterile gauze pads, 1 2″ gauze roll, 1 adhesive tape, 1 carabineer, 1 sturdy hard shell carry case 6.2 x 7.75 x 2 inches in size. Weighs 0.70. Unique design. Durable hard shell design. 85 pieces. Clear pocket design. Carabineer attached for cliping onto items. Smart usable contents for minor cuts and scrapes. Ideal use for home,travel,outdoor and sports.
Adventure Medical Kit
Group size 1-5 people for mulitple days. Weight 15 oz
Ingredients:
BANDAGES-3, Bandage, Adhesive, Fabric, Knuckle; 2 Dressing, Non-Adherent, Sterile, 2″ x 3″; 4 Bandage, Butterfly Closure; 2 Dressing, Gauze, Sterile, 2″ x 2″, Pkg 2; 5 Bandage, Adhesive, Fabric, 1″ x 3″; 2 Dressing, Gauze, Sterile, 4″ x 4″, Pkg 2; BLEEDING-1 Gloves, Nitrile (pair), Hand Wipe; 1 Trauma pad, 5″ x 9″; BLISTER/BURN-1 Moleskin, Pre-Cut & Shaped; FRACTURE/SPRAIN-1 Bandage, Elastic with Velcro, 2″; INSTRUMENT-2 Safety Pins; 1 Splinter Picker/Tick Remover Forceps: MEDICAL INFORMATION- Comprehensive Guide to Wilderness & Travel Medicine; MEDICATION-2 AfterBite wipes; 3 Ibuprofen (200 mg), Pkg 2; 2 Antihistamine (Diphenhydramine 25 mg); 2 Aspirin (325 mg), Pkg 2; 2 Diamode (Lopermaide HCI 2 mg), Pkg 1; WOUND CARE-1 Tape, 1″ x 10 yards; 3 Triple Antibiotic Ointment, Single Use; 2 Alcohol Swab; 1 Cotton Tip Applicator, Pkg 2; 4 After Cuts & Scrapes Anethestic/Antiseptic; 1 Syringe, Irrigation, 10cc, 18 Gauge Tip; 1 Tincture of Benzoin Topical Adhesive
Adventure Medical Kit Trauma Pack with QuikClot
Stop bleeding fast
Critical first aid information
Durable, waterproof, and reusable
Made for tactical first response
Personal protection